SINGLE-CENTER DESCRIPTIVE STATISTICAL ANALYSIS OF GLIAL TUMORS WITH REFERENCE TO GLIOBLASTOMAS
Panche Zdravkovski

Institute of Pathology, Faculty of Medicine, Ss. Cyril and Methodius University in Skopje, North Macedonia

Boro Ilievski

Institute of Pathology, Faculty of Medicine, Ss Cyril and Methodius University in Skopje, North Macedonia

Vladimir Rendevski

Clinic for Neurosurgery, Clinical Center Mother Theresa, Skopje, Faculty of Medicine, Ss. Cyril and Methodius University in Skopje, North Macedonia

Aleksandar Chaparoski

Clinic for Neurosurgery, Clinical Center Mother Theresa, Skopje, Faculty of Medicine, Ss. Cyril and Methodius University in Skopje, North Macedonia

Venko Filipche

Clinic for Neurosurgery, Clinical Center Mother Theresa, Skopje, Faculty of Medicine, Ss. Cyril and Methodius University in Skopje, North Macedonia

Blagoj Shuntov

Clinic for Neurosurgery, Clinical Center Mother Theresa, Skopje, Faculty of Medicine, Ss. Cyril and Methodius University in Skopje, North Macedonia

Ivica Kocevski

Clinic for Neurosurgery, Clinical Center Mother Theresa, Skopje, Faculty of Medicine, Ss. Cyril and Methodius University in Skopje, North Macedonia

Igor Stojkovski

Clinic for Oncology and Radiotherapy, Faculty of Medicine, Ss. Cyril and Methodius University in Skopje, North Macedonia

Gordana Petrushevska

Institute of Pathology, Faculty of Medicine, Ss Cyril and Methodius University in Skopje, North Macedonia
Abstract
Gliomas are the most common primary intracranial brain neoplasms composing almost 80% of all cancerous brain tumours. Glioblastoma is the most common malignant brain tumour in the adult population and accounts in about 15% of all intracranial neoplasms. This observational analytical study gives a better overview of the current state of glial tumours in North Macedonia from 2021 to 2022 with special reference to glioblastomas. Epidemiological and statistical analysis of glial and other brain tumours in a specific time period with special reference to glioblastomas. This research is an observational statistical analysis that takes place on the Institute for Pathology in the Medical Faculty of ''Ss. Cyril and Methodius'' University in Skopje using the digital data base of patients that had undergone surgery in the University Clinic of Neurosurgery and were diagnosed at the Institute of pathology during the time period 2021-2022. In the period from 2021 and 2022, at the Institute of pathology were diagnosed 106 (62%) glioblastomas out of which classic glioblastoma histomorphology confined 85 (80.19%) cases; 9 (8.49%) glioblastomas showed oligodendroglial component, 5 (4.72%) cases were gliosarcomas and 4 (3.77%) cases were diagnosed as giant cell glioblastomas. Three (2.83%) cases showed glioblastoma histomorphology with radionecrosis. When it comes to global statistics, we can conclude that Republic of North Macedonia follows the global trends regarding the incidence of glioblastoma associated with gender. Our results show that glioblastoma is more prevalent in males than females with the ratio male to female being 1.2:1, and this tumour is more prevalent in patients older than 55 years with the average age of diagnosis being 61 years. The results of this descriptive statistical analysis show that glial tumours, especially glioblastomas as most prevalent malignant tumour type deserves greater scientific attention which beside the impact on their diagnostic complexity, will expand the knowledge of this pathology field and strongly reflect on future scientific and diagnostic work.
Keywords: Glioblastoma, glial tumors, statistics, analyzis, epidemiology.
References
1.WHO Classification of Tumours Editorial Board. Central nervous system tumours. Lyon (France): International Agency for Research on cancer; 2021. https://publications.iarc.fr/601.
2.Tamimi AF, Juweid M. Epidemiology and Outcome of Glioblastoma. In: De Vleeschouwer S, editor. Glioblastoma [Internet]. Brisbane (AU): Codon Publications; 2017 Sep 27. Chapter 8. Available from: https://www.ncbi.nlm.nih.gov/books/NBK470003/ doi: 10.15586/codon.glioblastoma.2017.ch8.
3.Hol M E, Pekny M. ''Glial fibrillary acidic protein (GFAP) and the astrocyte intermediate filament system in diseases of the central nervous system''. Current opinion in Cell Biology. 2015, 32:121-130.
4.Halliday, G. M., Cullen, K. M., Kril, J. J., Harding, A. J., & Harasty, J. (1996). Glial fibrillary acidic protein (GFAP) immunohistochemistry in human cortex: a quantitative study using different antisera. Neuroscience letters, 209(1), 29–32. https://doi.org/10.1016/0304-3940(96)12592-1.
5.Camelo-Piragua S, Jansen M, Ganguly A, Kim JC, Louis DN, Nutt CL. Mutant IDH1-specific immunohistochemistry distinguishes diffuse astrocytoma from astrocytosis. Acta Neuropathol. 2010 Apr;119(4):509-11. doi: 10.1007/s00401-009-0632-y. Epub 2010 Jan 1. PMID: 20044756; PMCID: PMC2864729.
6.Gondim, D. D., Gener, M. A., Curless, K. L., Cohen-Gadol, A. A., Hattab, E. M., & Cheng, L. (2019). Determining IDH-Mutational Status in Gliomas Using IDH1-R132H Antibody and Polymerase Chain Reaction. Applied immunohistochemistry & molecular morphology: AIMM, 27(10), 722-725. https://doi.org/10.1097/PAI.0000000000000702.
7.Bouchart C, Trepant AL, Hein M, et al. ''Prognostic impact of Glioblastoma stem cell markers OLIG2 and CCND2. Cancer Med. 2020 Feb;9(3):1069-78. PMID:31568682.
8.Trépant, A. L., Bouchart, C., Rorive, S., Sauvage, S., Decaestecker, C., Demetter, P., & Salmon, I. (2015). Identification of OLIG2 as the most specific glioblastoma stem cell marker starting from comparative analysis of data from similar DNA chip microarray platforms. Tumour biology: the journal of the International Society for Oncodevelopmental Biology and Medicine, 36(3), 1943–1953. https://doi.org/10.1007/s13277-014-2800-5.
9.Jalal, J. A., Rowandizy, A. I. S., & Ismael, A. T. (2020). Immunohistochemical expression of ATRX in gliomas. Cellular and molecular biology (Noisy-le-Grand, France), 66(7), 131–135.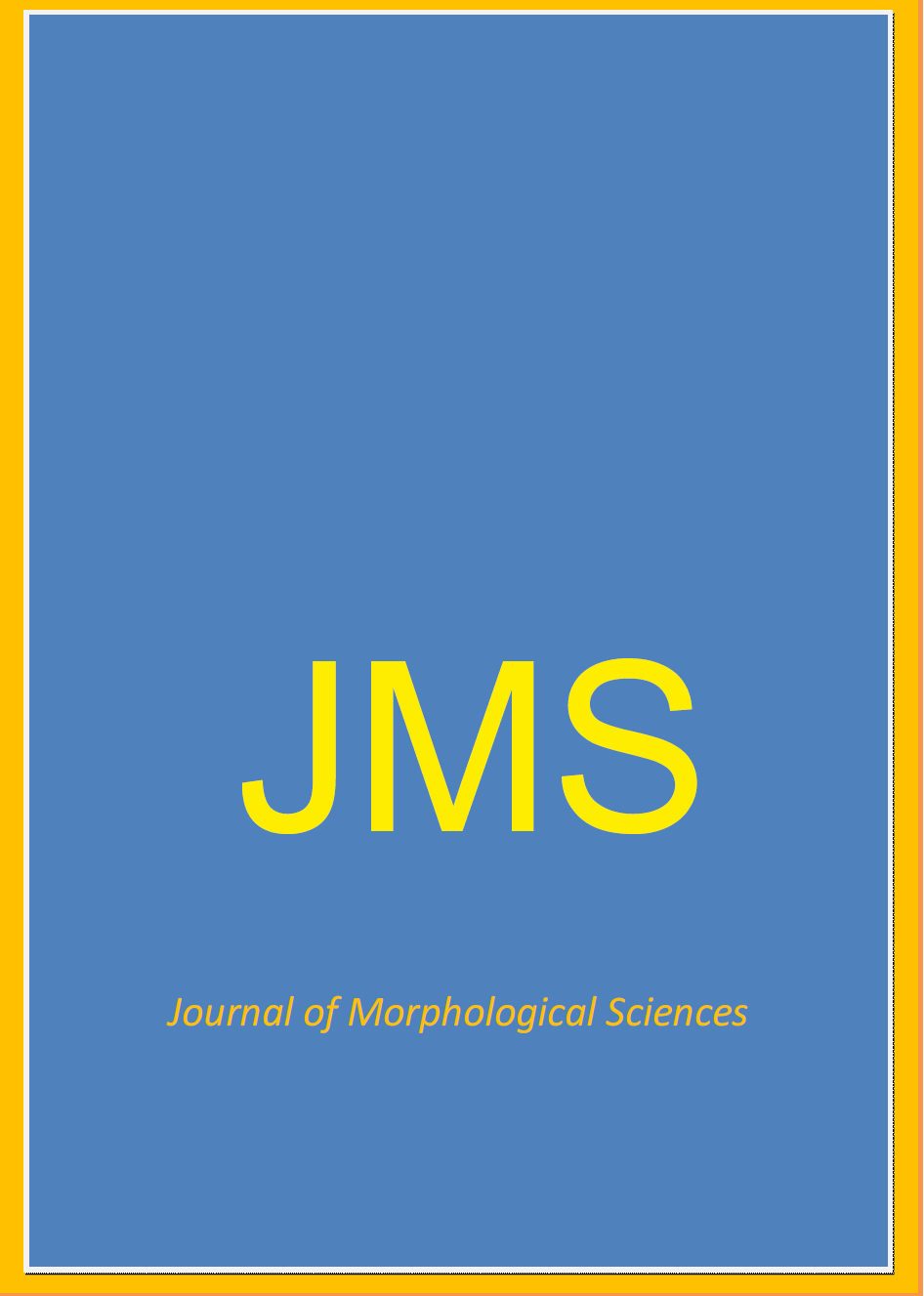 How to Cite
ZDRAVKOVSKI, Panche et al. SINGLE-CENTER DESCRIPTIVE STATISTICAL ANALYSIS OF GLIAL TUMORS WITH REFERENCE TO GLIOBLASTOMAS.
Journal of Morphological Sciences
, [S.l.], v. 5, n. 3, p. 121-128, dec. 2022. ISSN 2545-4706. Available at: <
http://www.jms.mk/jms/article/view/vol5no3-20
>. Date accessed: 01 apr. 2023.