ACUTE PANCREATITIS AS ADVERSE REACTION ТО PERINDOPRIL THERAPY
Perindopril - induced pancreatitis
Lidija Petkovska

Phd

Fana Licoska Josifovik

Mr.sci

Julijana Brezovska Kavrakova

PhD

Emilija Antova

PhD
Abstract
Abstract
Many drugs and drug classes have been reported to be associated with acute pancreatitis. Angiotensin-converting enzyme inhibitors are one of the most commonly prescribed classes of medications, as they are used in hypertension, heart failure and proteinuria. Although well tolerated, acute pancreatitis has been reported in a few subjects treated with drugs from this group. We present a rare case of pancreatitis occurring as an adverse reaction to therapeutic doses of perindopril with good outcome.
Case report: We report а case of a 63 year-old-woman presented with clinical signs of acute pancreatitis, 2 months after administration of perindopril 4 mg once daily for treatment of hypertension and reduction of proteinuria. The patient has had a 3-year-history of diabetes treated with metformin 2 x 850 mg daily, which is also classified as a possible drug that causes pancreatitis.  Other causes of the disease were ruled out. After cessation of perindopril her clinical status improved and pancreatic enzymes level decreased.
Conclusion: Because perindopril has a widespread clinical use, we wish to alert clinicians and urge close monitoring for pancreatitis as well as other adverse effects. Discontinuation of the drug leads to an improvement in the clinical condition.
Key words: Angiotensin-converting enzyme inhibitor, Drug-induced pancreatitis, Perindopril
References
References:
1. Nitsche CJ, Jamieson N, Lerch MM. Mayerle JV. Drug induced pancreatitis. Best Pract Res Clin Gastroenterol. 2010; 24(2): 143-155. PMID: 20227028.
2. Kanbay M, Korkmaz M, Yilmaz U, Gur G, Boyacioglu S. Acute pancreatitis due to ramipril therapy. Postgrad Med J. 2004; 80:617–618.
3. Drug-Induced Pancreatitis. Pharmacist's Letter/Prescriber's Letter. April 2013. Available from:http://prescribersletter.therapeuticresearch.com/home.aspx?cs=&s=PRL&AspxAutoDetectCookieSupport=1.
4. Gallego-Rojo FJ, Gonzalez-Calvin JL, Guilarte J, Casado-Caballero FJ, Bellot V. Perindopril-induced acute pancreatitis. Dig Dis Sci. 1997; 42:1789-91. PMID: 9286249
5. Famularo G, Minisola G, Nicotra GC, De Simone C. Idiosyncratic Pancreatitis Associated with Perindopril JOP. 2005; 6(6):605-607. PMID: 16286714
6. Kanbay M, Sekuk H, Yilmaz U, Gur G, Boyacioglu S. Acute Pancreatitis Associated with combined Lisinopril and Atorvastatin therapy. Dig Dis. 2005; 23: 92-94.
7. Hung WY, Abreu Lanfranco O. Contemporary review of drug-induced pancreatitis: A different perspective. World J Gastrointest Pathophysiol. 2014; 5(4): 405–415. PMID: 25400984
8. Nitsche C, Maertin S, Scheiber J, Ritter CA, Lerch MM, Mayerle J. Drug induced pancreatitis. Curr Gastroenterol Rep. 2012; 14(2):131-138. PMID: 22314811
9. Karch FE, Lasagna L. Adverse drug reactions. A critical review. JAMA. 1975: 234(12): 1236-1241. PMID: 1242749
10. Grendell JH. Editorial: drug-induced acute pancreatitis: uncommon or commonplace? Am J Gastroenterol. 2011; 106(12): 2189-2191. PMID: 22138943.
11. Gonzales Ramallo VJ, Muino Miguez A, Torres Segovia FJ. Necrotizing pancreatitis and enalapril. Eur J Med. 1992; 1(2): 123. PMID: 1342370
12. Feldman M, Friedman LS, Brandt LJ, editors. 9th ed. St. Louis, MO: Saunders: Sleisenger & Fordtran's Gastrointestinal and Liver Disease; 2010.
13. Jones MR, Hall OM, Kaye AM, Kaye AD. Drug-Induced Acute Pancreatitis: A Review. Ochsner J. 2015; 15:45–51.
14. Eland IA, Sundstrom A, Velo GP, Andersen M, Sturkenboom MC, Lang-man MJ, et al. Antihypertensive medication and the risk of acute pancreatitis: the European case-control study on drug-induced acute pancreatitis (EDIP) Scand J Gastroenterol. 2006; 41(12): 1484–1490.
15. Fimognari FL, Corsonello A, Pastorell R, Antonelli-Incalzi R. Metformin-induced pancreatitis: A possible adverse drug effect during acute renal failure. Diabetes Care. 2006; 29(5): 1183. PMID: 16644670
16. Can B, Sali M, Batman A, Yilmaz H, Korkmaz U, Celebi A, et al. Valsartan-induced acute pancreatitis. Intern Med. 2014; 53:703– 705.
17. Birck B, Keim V, Fiedler F, Van Der Woude FJ, Rohmeiss P. Pancreatitis after losartan. Lancet. 1998;351:1178.
18. Bazelel S, Nahlab-Guri K, Asher I, Werner B, Sthoeger ZM. Angiotensin-converting enzyme inhibitor-induced angioedema. Am J Med. 2015; 128(2):120-5.
19. Greisbacher T, Lembeck F. Effects of the bradykinin antagonist, HOE 140, in experimental acute pancreatitis. Br J Pharmaco. 1992; 107:356–360.
20. Molinaro G, Cugno M, Perez M, Lepage Y, Gervais N, Agostoni A, et al. Angiotensin-converting enzyme inhibitor-associated angioedema is characterized by a slower degradation of des-arginine (9)-bradykinin. J Pharmacol Exp Ther. 2002; 303(1):232-7.
21. Tsang SW, Cheng CH, Leung PS. The role of the pancreatic renin-angiotensin system in acinar digestive enzyme secretion and in acute pancreatitis. Regul Pept. 2004;119:213-219.
22. Oruc N, Ozutemiz O, Nart D, Yuce G, Celik HA, IlterR T. Inhibition of renin-angiotensin system in experimental acute pancreatitis in rats: A new therapeutic target? Exp Toxicol Pathol. 2010; 62:353-360.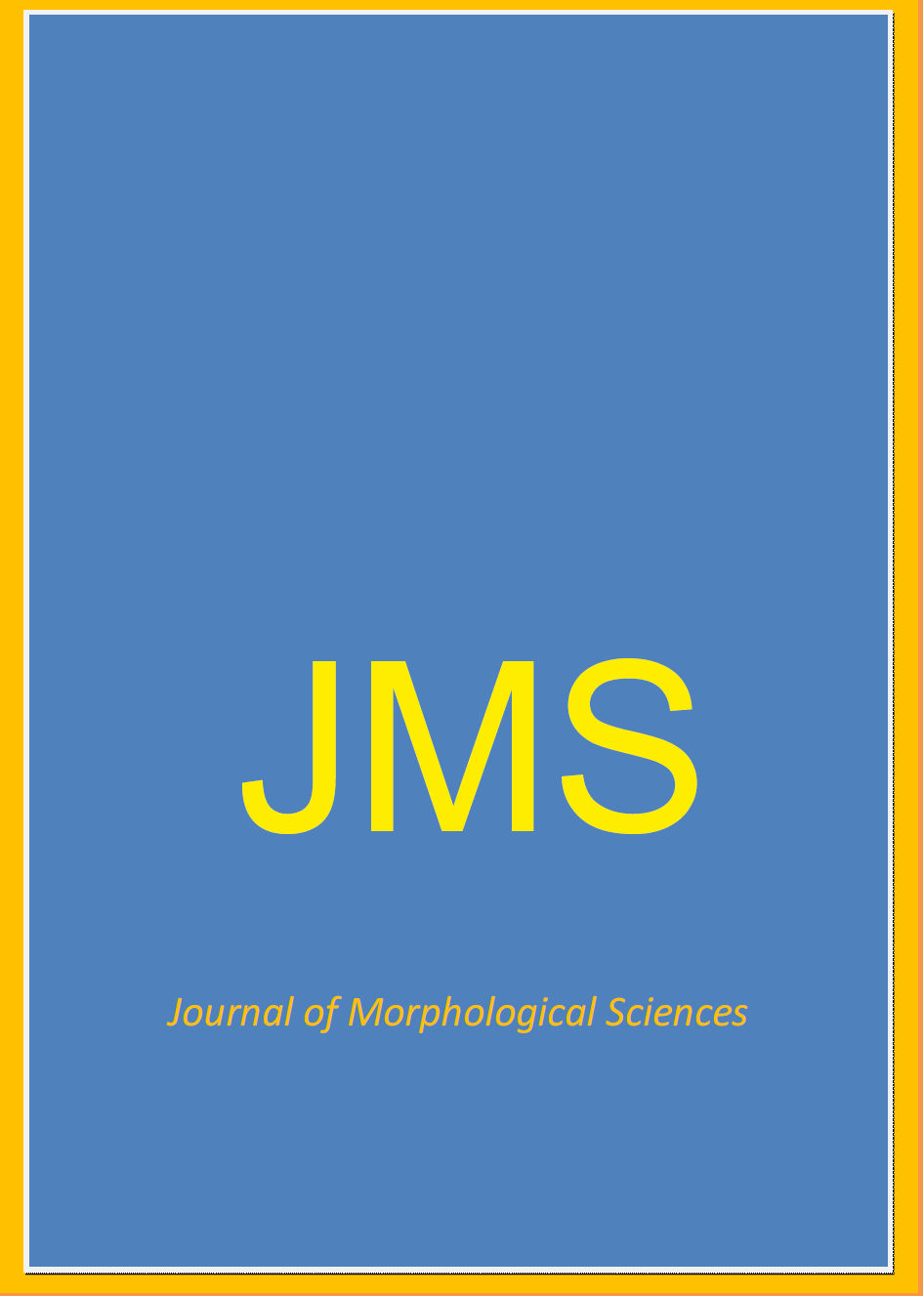 How to Cite
PETKOVSKA, Lidija et al. ACUTE PANCREATITIS AS ADVERSE REACTION ТО PERINDOPRIL THERAPY.
Journal of Morphological Sciences
, [S.l.], v. 2, n. 1, p. 3-7, june 2019. ISSN 2545-4706. Available at: <
http://www.jms.mk/jms/article/view/47
>. Date accessed: 10 july 2020.